About Athena High
At Athena High School, we strive each day to provide a safe and productive learning environment where all students can grow, be successful and be college and career ready in the 21st Century. Our school-wide goals include building and sustaining a school-wide culture that is conducive for learning, monitoring student progress to ensure graduation, and preparing our students for college and career readiness.

It's CLASS RING time at Athena High School check out this quick video: https://youtu.be/3mN-FDcxppo?

Information Packets are available in the Mr. Moore's office, Room 212.

Information can also be found online:

Jostens link - http://www.jostens.com

Click on below document files:

PTSA online store! https://greeceathena.memberhub.store/

This web store will allow us to accept credit card payments! There is a small processing fee with each transaction.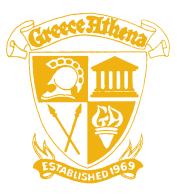 Athena High School
Hours: 7:20 a.m.-1:50 p.m.
800 Long Pond Road
Rochester, NY 14612
(585) 966-4000