Athena Cares Club
Greece Athena Middle School is excited to announce that, after 3 years of fundraising, we now have a borehole well in South Sudan with our name on it. Approximately one thousand people will now have access to clean water instead of having to walk hours every day to get dirty, bacteria-filled water. Girls can now go to school because they no longer have to walk for water all day long.



We were first inspired by local author Linda Sue Park's book, A Long Walk to Water, which tells the story of real-life hero, Salva Dut. Salva was forced to flee his home in 1985 as a result of the Sudanese Civil War and spent years escaping the violence, walking to refugee camps. In 1996, he was chosen to come to America and was settled in Rochester. Upon learning that his father had survived the war but was very ill from a water-borne illness, Salva was inspired to organize Water for South Sudan in an effort to help his homeland. Since 2005, over 275 wells have been drilled, and Athena Middle School is proud to now be an official part of this important work.



Over the past 3 years, Athena Cares, an extracurricular community-service group has organized and sponsored several fundraisers, such as walks, homeroom challenges, pajama and hat days, raffles, and community fundraisers. Last year, we also teamed with Greece Rotary, who has further supported us in our efforts. In addition to naming rights on the well, we completed the Iron Giraffe Challenge for the past 2 years, which will help replace the non-profit organization's 10-year-old drilling rig. Athena Cares plans to continue working to help Salva and the people of South Sudan achieve their dreams. For more information on this organization, please go to http://www.waterforsouthsudan.org/.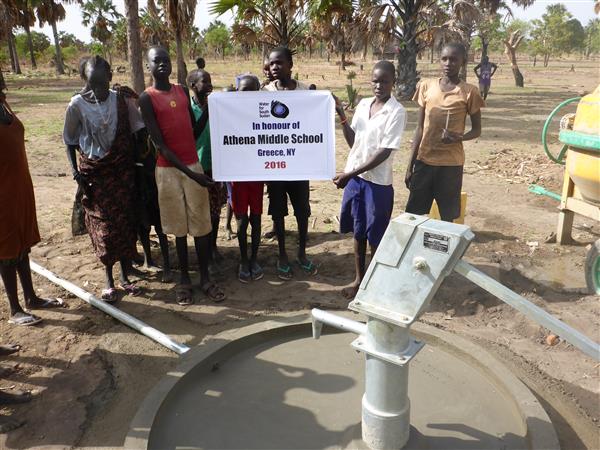 The image above shows the well installed as a result of donations from Athena Middle School. Below is the engraving on the well's exterior.